Creating memories that last longer.
It's your special day. Together, we'll make it everything you've ever imagined.
Whether you've dreamed about this day for your entire life, or this is the next natural step of your love story, I want this day to be exactly as you want it to be. My philosophy is simple – capture your love story in a way that matters most to you.
I'll help you organize the timing and flow, add a touch of humor and personality, plus share the moments and stories that make up your unique journey. I know too that your guests are an integral part of your day – more than mere spectators. You've invited them to your wedding day because of your special relationship with them. We can acknowledge them in the ceremony and truly create a memory that lasts a little longer for everyone.
Your ceremony is the heart of your wedding day. Whether you write your own vows or have me create them for you - we can include your favorite poems, music, lyrics, readings and religious or spiritual verses and passages. Even your family members and friends can be integrated into the ceremony to share a special reading.
The choice is yours! Working together we'll create a ceremony that reflects exactly who you are as individuals and as a couple – while keeping your love story the center of it all.
About
My love for speaking at weddings all began when my sister asked me to write and officiate her wedding ceremony. With a background in writing for television and radio, she thought I'd able to create a distinctive ceremony that focused truly on them. It was a success and so much fun that I decided I wanted to do it again, and again. Helping couples celebrate in this way feels natural, so of course, this grew into a business. I have written and performed nearly 100 weddings ceremonies, all each with a different, unique love beautiful story.
Personally, I married my husband and best friend in 1992. He and his two amazing sons were a package deal! I can honestly say marriage is the best thing that has happened to me. I'm often asked about the secret to a good marriage. Through personal experience I can tell you that it's true that a great marriage takes effort, love, patience and mutual respect. But, above all else, it's not about marrying the right partner it's about being the right partner
Officiating since 2007, I am located in stunning Grand Lake, Colorado. Although I perform most of my weddings within Grand County, I do travel anywhere within Colorado if I'm the right fit for you.
If you're looking for a wedding or vow renewal that is:
Traditional
Contemporary
Inter-Faith
Non-Denominational; or
Short -n- Sweet
I would love to discuss your ceremony options. Each wedding ceremony is different because each story is different. I'm happy to help you share yours, your way.
Whether your wedding is an elopement, intimate or large, indoors or outdoors, religious, spiritual or non-denominational – if you are in love each other and ready to take this step, I'd be happy I'd be honored to work with you.
Dan & Stephanie
You have a very special gift. We are blessed you shared it with us. Thank you very much.
Eric & Janeen
Thank you so much for everything you did! The Ceremony was perfect! Everyone – including us – loved it. You did a fantastic job and we can't thank you enough for making our special day even more special! You rock!
KRISTIN & Mike
We loved the wedding ceremony you did for us on August 24th. We've gotten so many compliments on how personal and well done the ceremony was. Thank you for everything. You made the whole process stress-free and very memorable.
Katie & Ethan
We cannot thank you enough for performing our wedding ceremony. It was thoughtful and sweet and meaningful and – well – perfect! Thank you for sharing your talent, insight and love. We are incredibly grateful.
Jill & Kevin
Thank you for officiating our wedding! We appreciate all you have done to design the perfect ceremony and begin us on our happily ever after journey!
Jessica & David
Thank you for being such a special part of our wedding day! Your professionalism and beautiful readings are much appreciated. We feel so blessed to have found you. Your words truly reflect the love and commitment we have for each other and we will cherish them forever!
Joe Wotton
I recently had the distinct pleasure of attending a wedding as a guest. Laura Summers did an outstanding job with her terrific format, inclusive demeanor and loving words. I'm sure all in attendance felt like I did. Laura's guidance of us in celebrating this wedding was joyous, laughter filled and quite memorable. I was so impressed! And, I am a wedding officiant in another State! I highly recommend Laura for any engaged couple seeking a terrific wedding officiant.
Matt & Stephanie
We really appreciate all the help you provided us. You were a perfect fit for us and our special day. Thank you for working with us to build the perfect ceremony to celebrate our wedding day!
Fritz & ToRY
Fritz and I would like to recommend you especially to those 55+ couples, choosing to blend a family, but want to come away feeling like a 1st time bride & groom! You provided comfort and gentle but guided support before, during and after the ceremony. With 5 adult children, this was not an easy task. All 7 of us felt it was truly a unified event. Thanks also in no small part to your amazing written ceremony, one that was a lovely combination of reality based Christian thought. And so poignant, a guest borrowed it for a January ceremony in Florida. We cannot thank you enough and are honored to consider you as a friend as we start our adventure together.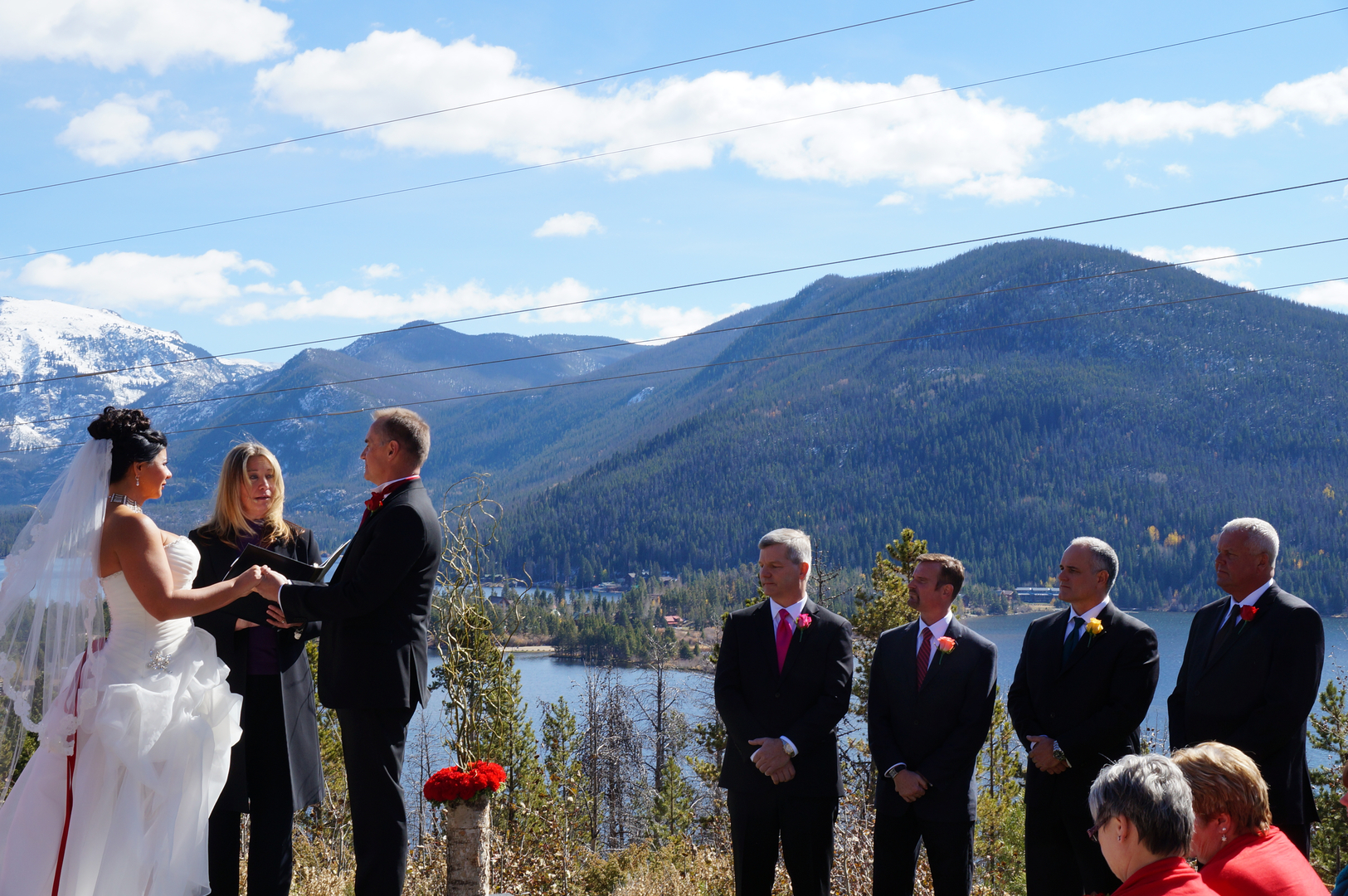 Contact
Schedule your complimentary consultation today. I understand that this day is about you and no one else so, I want you to feel comfortable and confident that I am the right person to work with you.
Please fill out the form below. I will be in contact with you within 24 hours.